There are many reasons to use a VPN service and using one in conjunction with Bit Torrent software is very popular these days. If you are at all concerned with security (and you should be) you don't want any torrent traffic to be visible to your Internet Service Provider (ISP). Sometimes the ISPs have rules against torrenting no matter what you download via P2P, and sometimes you might have chosen a less than legal file to torrent and you risk a DMCA take-down notification from the content owner or a suspension of your Internet account by your ISP.
To avoid any of those events from happening a lot of people run all torrent traffic trough a VPN. But, sometimes those VPN services can be flaky. They can drop at any given time and your computer is going to be very helpful and it will then start routing the torrent traffic over your normal Internet connection in the clear. That's not a good thing at all. So how can you prevent that? There are a few options we'll cover today. And while the concept is the same for other OS and software, we'll be dealing with a specific Torrent Program called BiglyBT on a Windows 10 PC using ibVPN software.
First: The Bit Torrent software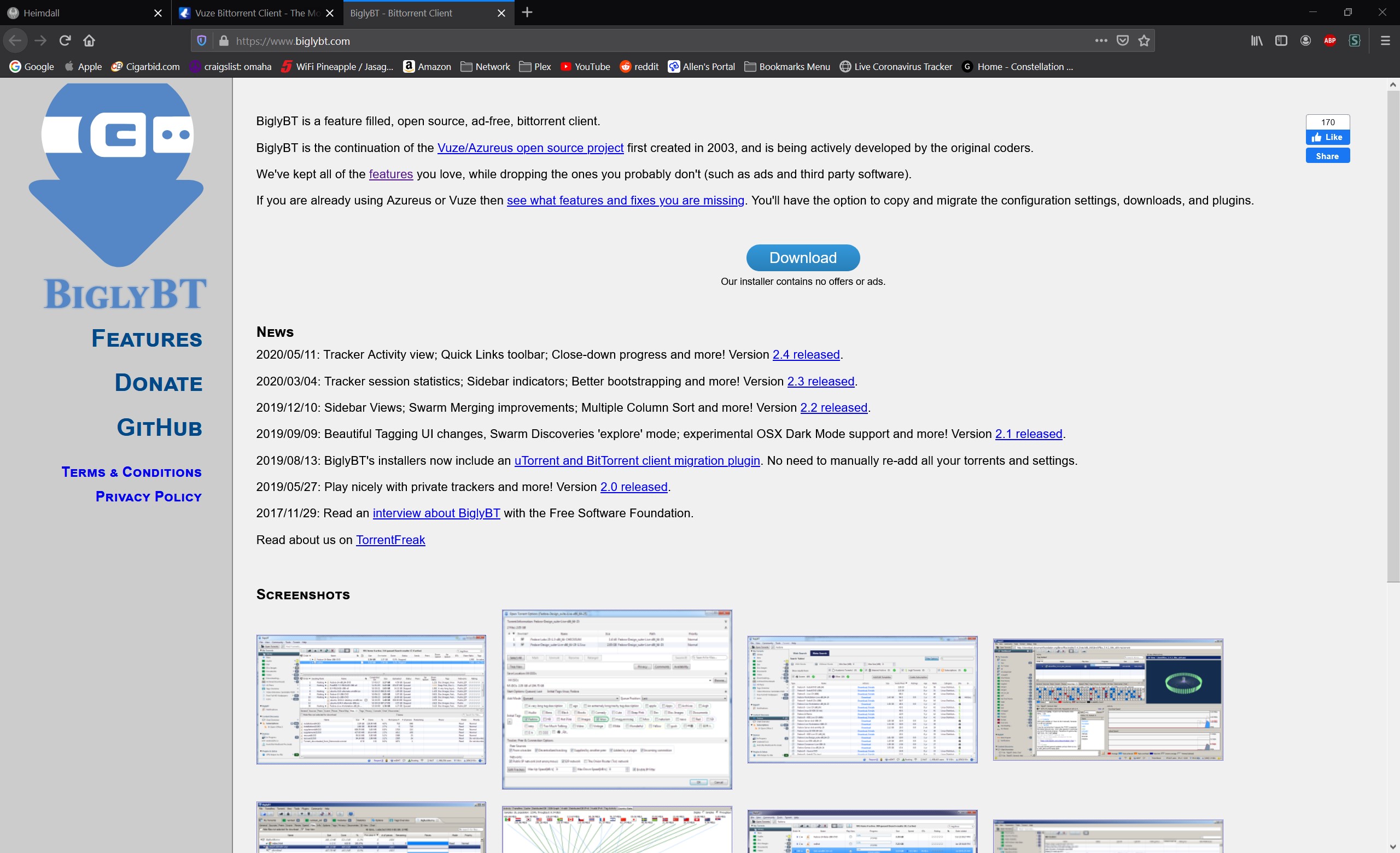 Vuze was a very popular Bit Torrent client and still is… But the amount of ads and bloat to the software lead some developers to fork Vuze into BiglyBT. It's got all the great features and none of the bloat. The upside is that most of the How To guides and wikis that tell  you how to setup Vuze will also work for BiglyBT.
Second: The VPN service
ibVPN is a personal favorite with a bunch of different options for servers all over the world.
Now, how do you keep torrent traffic only going over the VPN connection? You BIND the VPN interface so that BiglyBT only uses that interface for traffic. And here's how you set that up…
First go into Tools and Options, under Mode select the Advanced options and hit the Save button at the bottow right.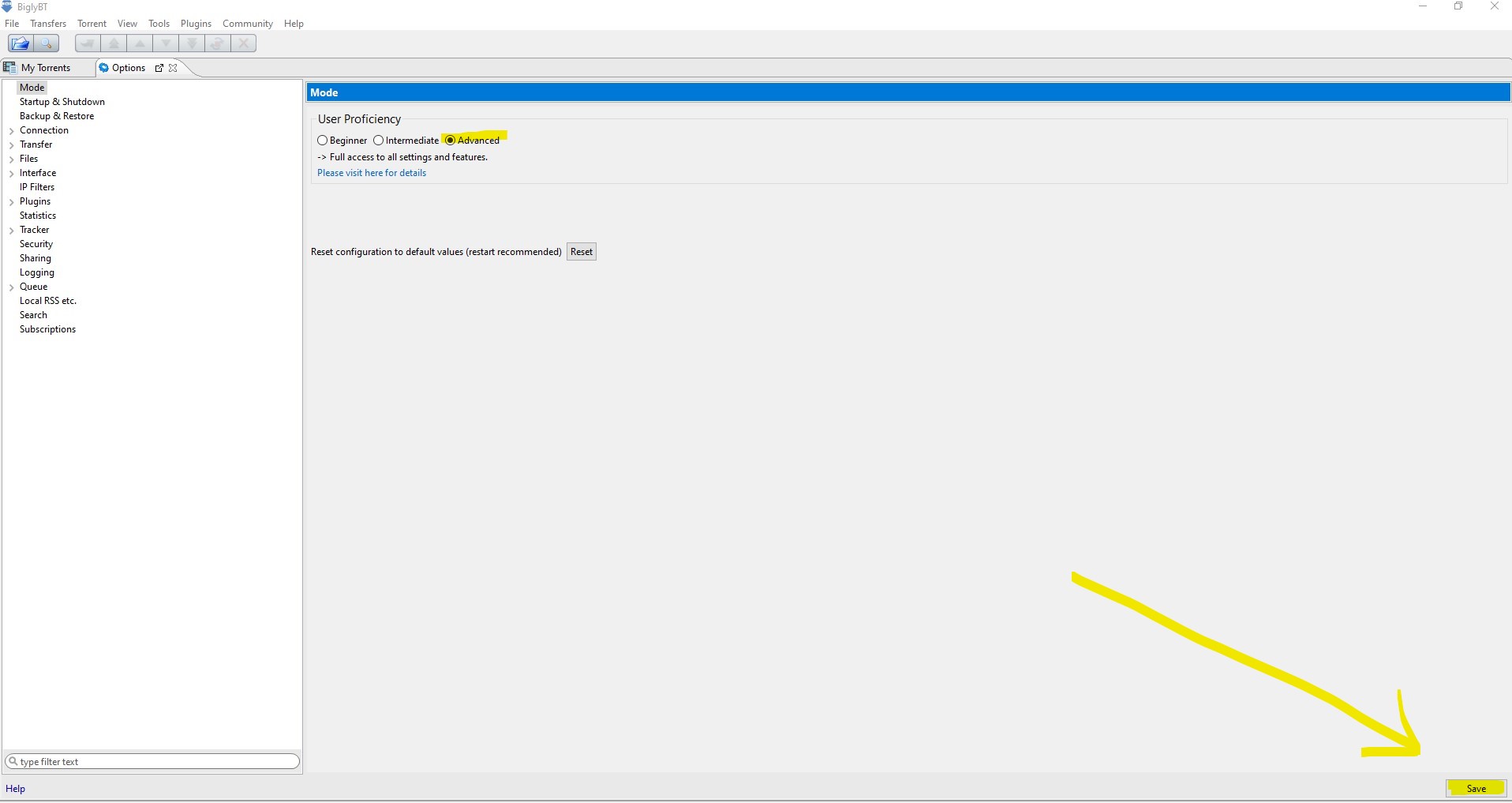 Second, under Connection go to Advanced Network Settings. Here you will find the option to Bind to local IP address or interface. That long list of interfaces below are all the options. A warning though. You will not see the Interface of your VPN until you turn it on.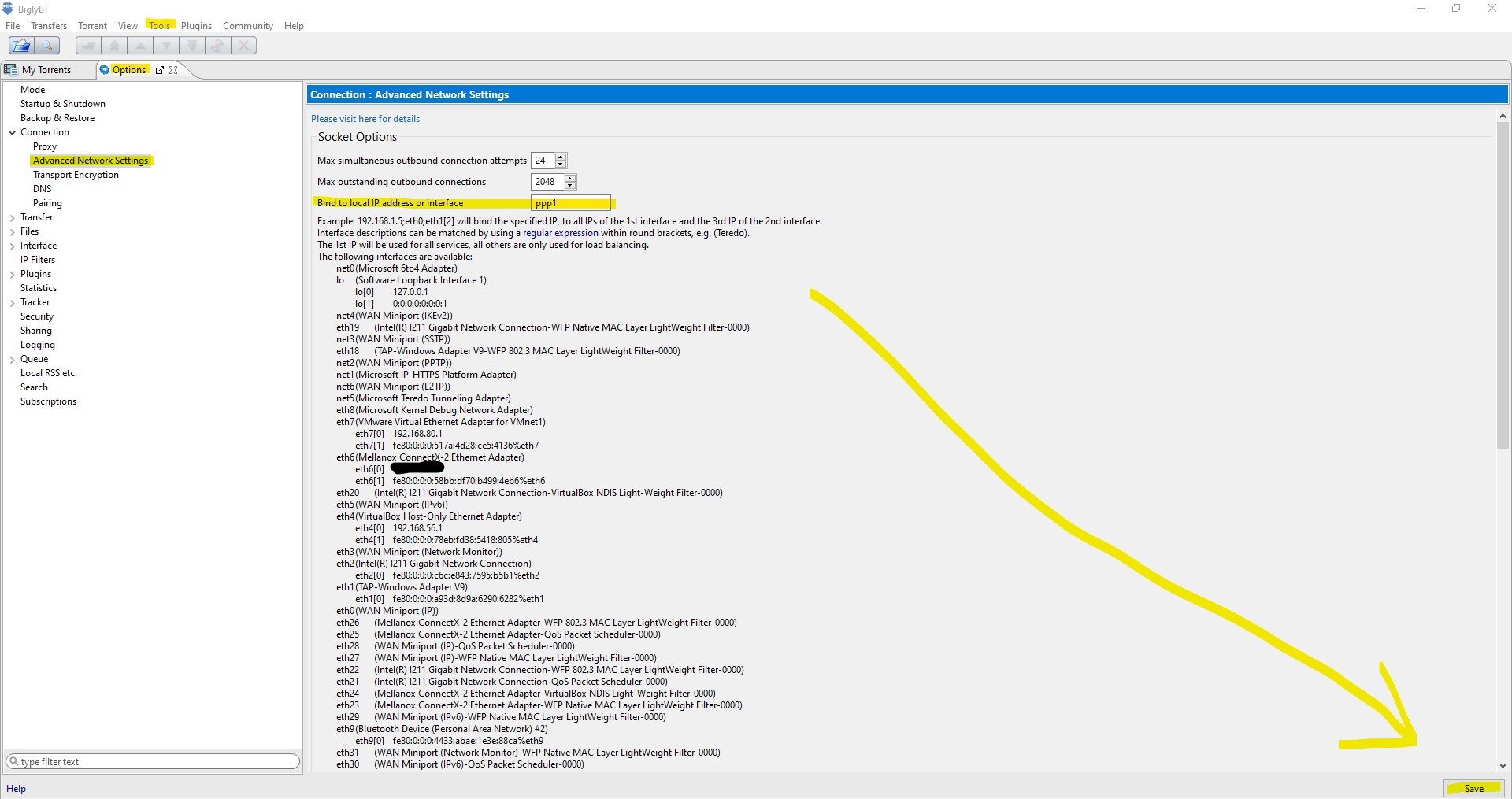 In Windows select Change Adapter Options and the box with all your active interfaces will pop up. Here you can see the empty yellow box means that I don't have my VPN turned on.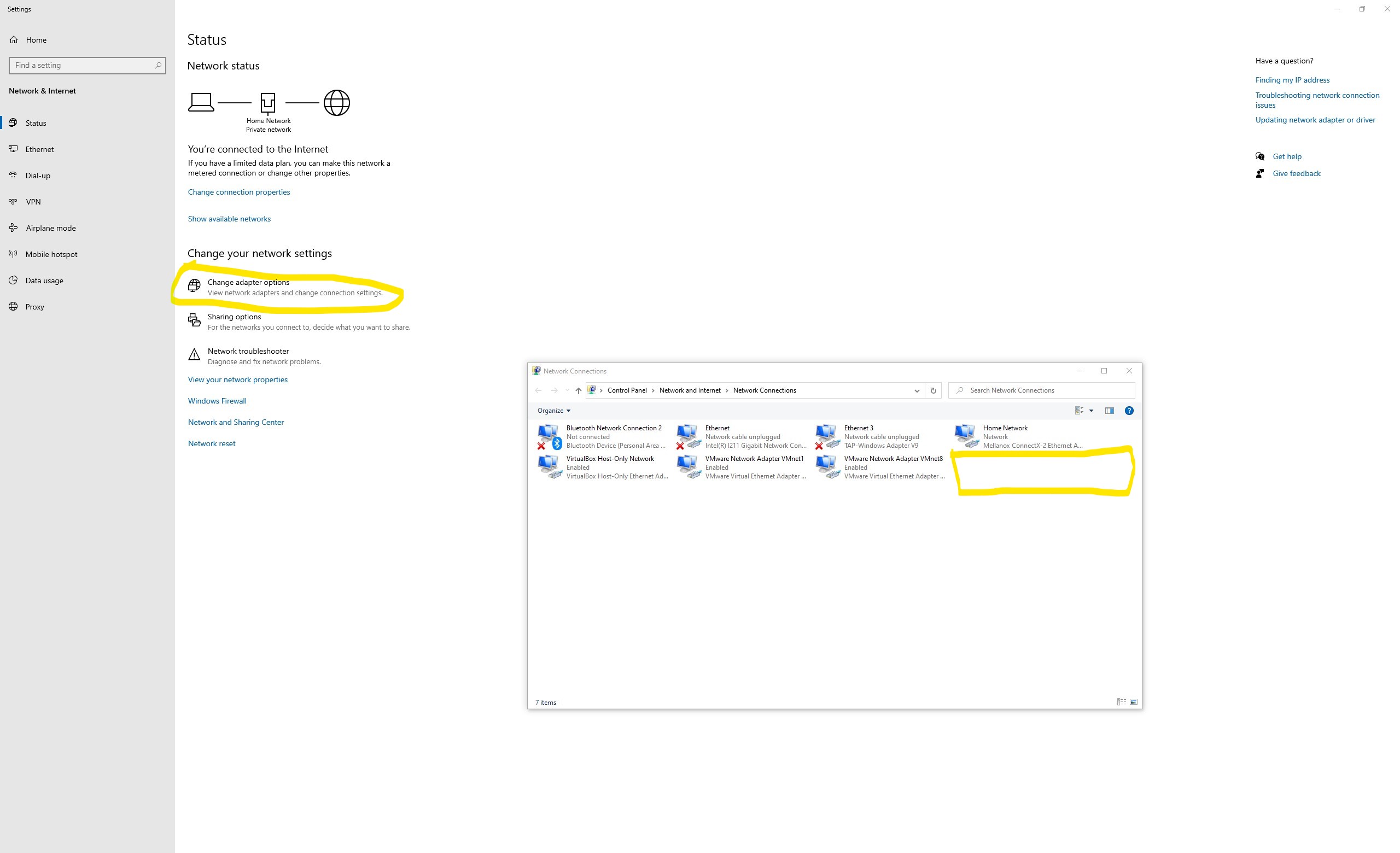 When I do turn it on… You can see a PPTP connection type.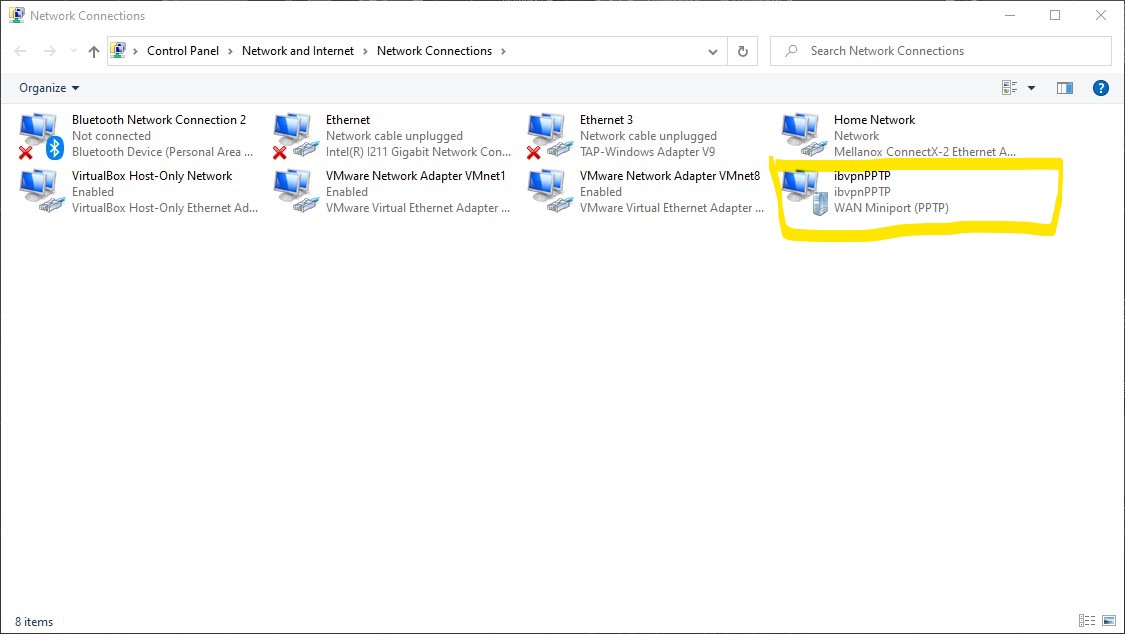 The type of VPN connection you choose in your software will change the Interface type. So if you do this Interface binding and go and change the type of VPN connection BiglyBT will not be able to connect until you change the Interface in the Binding section…
Here you can see with my ibVPN connection active the Interface PPP1 shows up in the below listing for potential interfaces. In the block for binding I have placed ppp1 and then hit save.
Scroll down a little further and make sure you enable the check boxes in the highlighted section. This is where the magic happens. These selections will force BiglyBT to check if the interface is present when it starts up and will pause any torrents if the interface drops. BiglyBT will only send traffic over the VPN interface and not your normal internet connection with these settings.  Don't forget to hit that SAVE button again once you've set this up.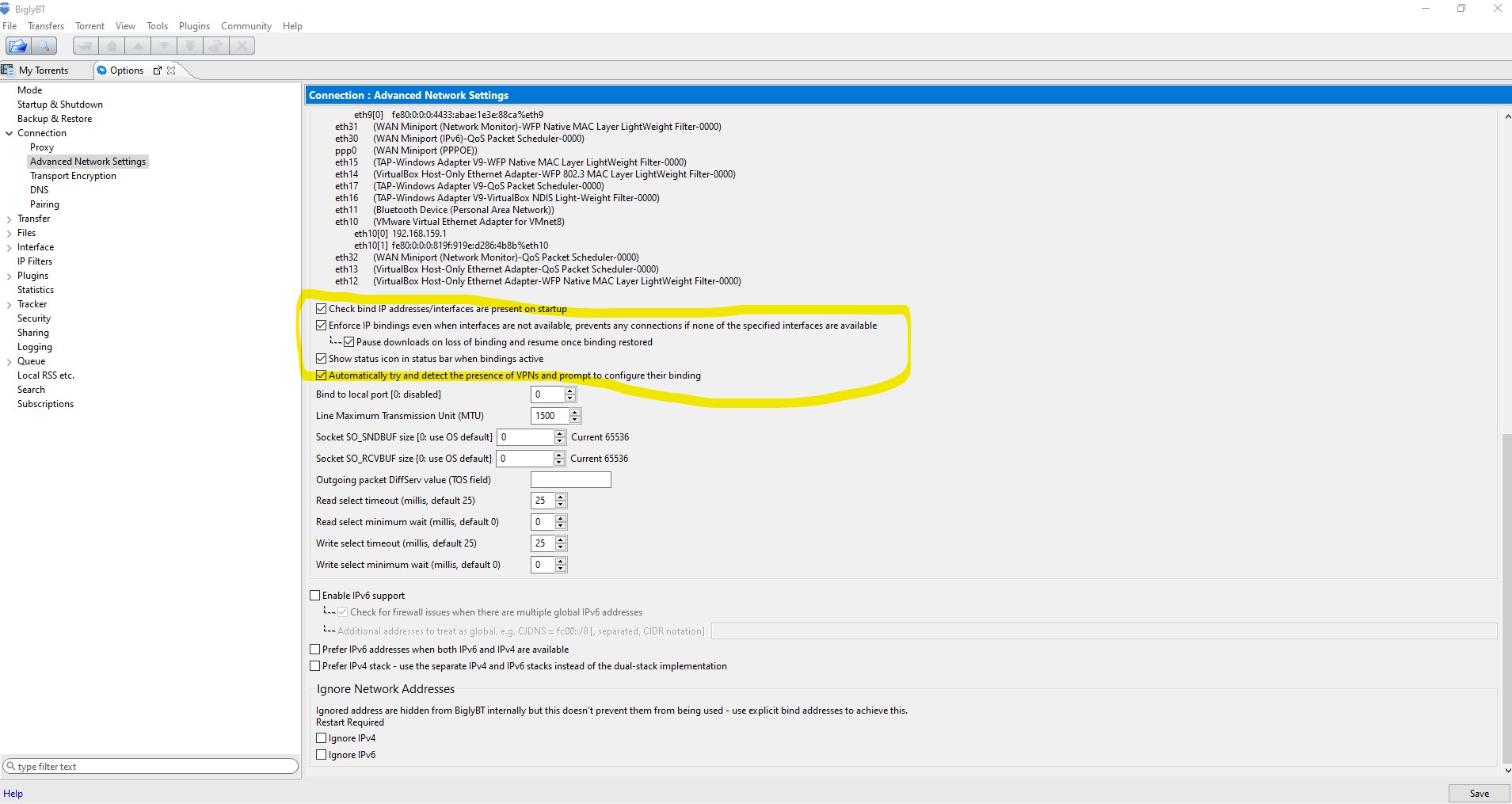 Another option, depending on your VPN software, is to have a "Kill Switch". If your VPN connection drops it will kill the application you have setup. I don't like this option compared to using the Bind interface in the BiglyBT. But it's better than nothing. But be aware it's not fool proof.